American Cyanide Gold and Silver Recovery Company (Denver, Colorado)
Arthur, John - Assay Office (Sumpter, Oregon)
Bird, Frank A., Assayor (Park City, Utah)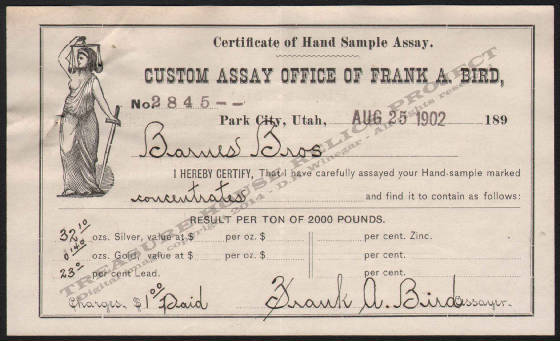 Braun, F. W. & Company, Assay Supplies
(Los Angeles, California)
This certificate is from a much later period in the history of the company. Dated September 15, 1943, this certificate shows results for the Lot #169-M. By this time the company offices had moved as well, now being located at 229-231 South on West Temple.
Daly West Mining Company, Assay & Settlement
The lot consisted of 35,300 pounds or 17.65 tons of 2nd class ore. The cos of moving this ore, 75 cents per ton, or a total of $13.25. The slip is marked as paid to L. Neely. by Chas. Read.
Fitzpatrick & Lewis, Assayers (Butte, Montana)
Gerber, Joseph, Assayer (Silver City, Utah)
| | |
| --- | --- |
| THRP Archive - Don & Shauna Winegar Collection | |
Innis, Homer C., Assayer (Baker City, Oregon)
Jehu, N.W., Assayer (San Francisco, California)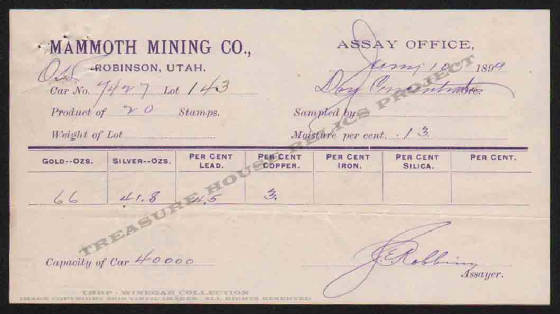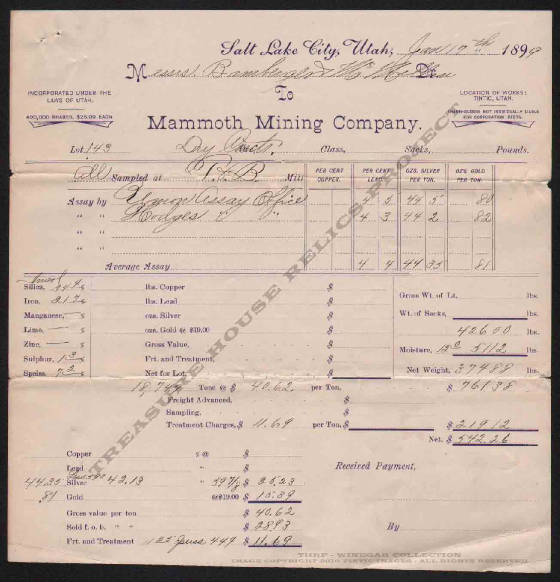 The final report is very detailed, and shows a great deal of information as far as values and charges, but the bottom line is that nearly 30% of the value was deducted in transportation, processing, assaying, and other expenses. This was probably very typical for other mining companies as well. The mine owners received just a bit over 70%. It sounds like a lot, and it is, but keep in mind, from that 70% they had to deduct all of the costs of operating the mine, dividends to the stockholders, if any, and of course, there were taxes to be paid!
| | |
| --- | --- |
| THRP Archive - Don & Shauna Winegar Collection | |
| | |
| --- | --- |
| THRP Archive - Don & Shauna Winegar Collection | |
Newbold & Antisell, Assayers (Stockton, Utah)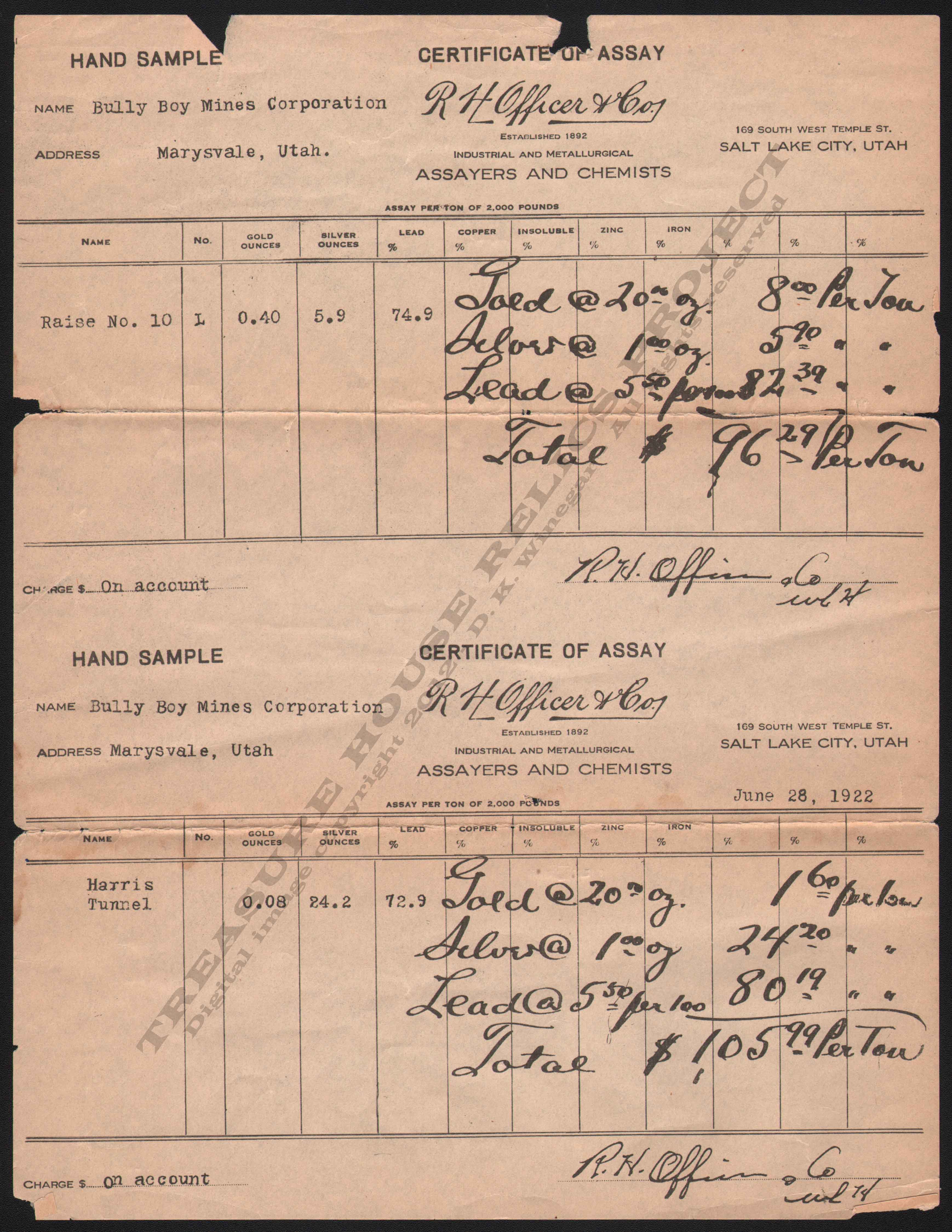 Ohio Copper Company Assay Office (Lark, Utah)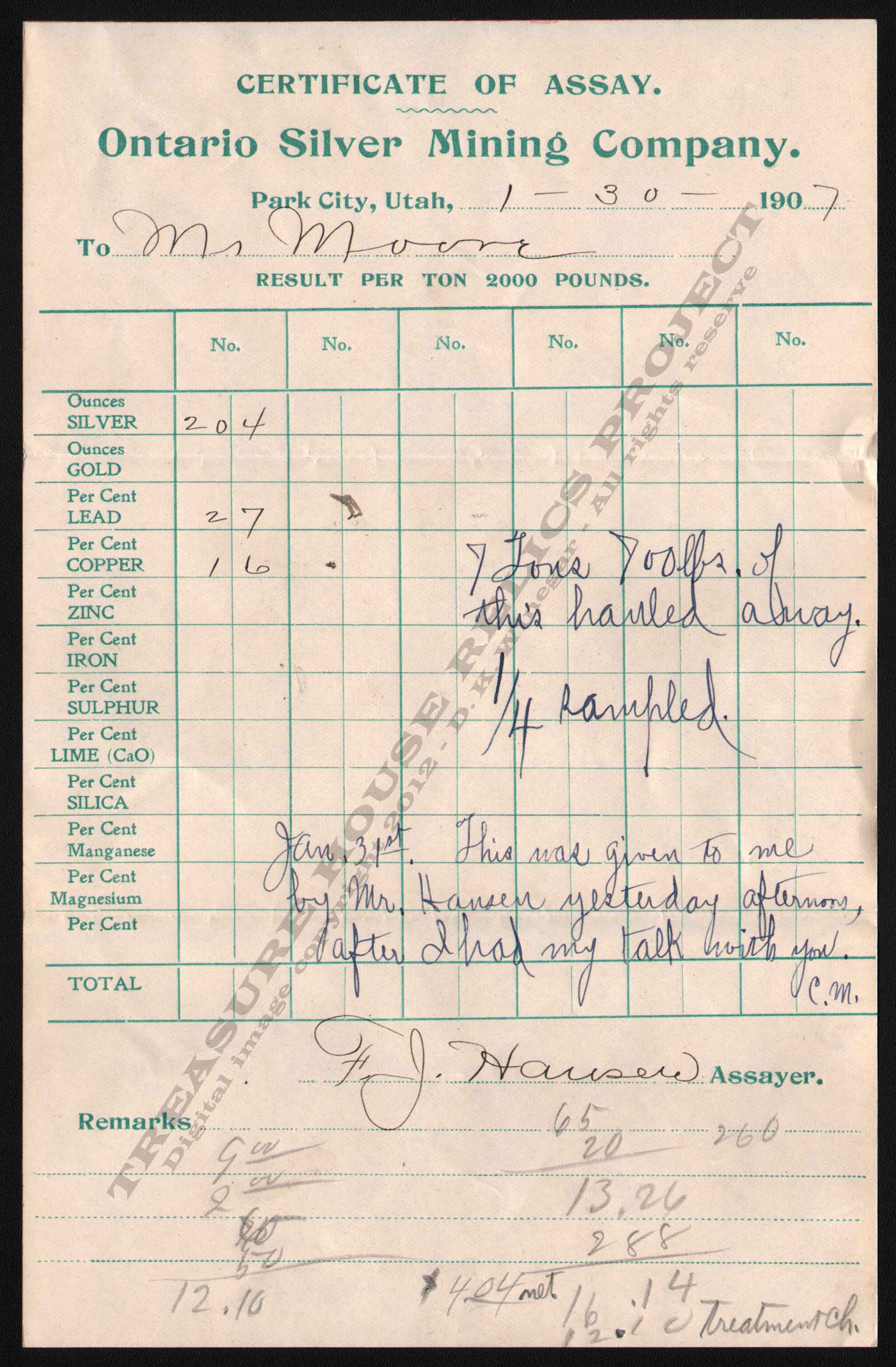 Park City Sampling Mill (Park City, Utah)
Sheep Rock Leasing Company, Assay Office (Beaver, Utah)
Shields & Jones Assay Office (Denver, Colorado)
Stringer, Thomas M., Assayer (Park City, Utah)
Taylor & Brunton Sampling Works (Aspen, Colorado)
Tramps Consolidated Mining Company, Assay Office (Nevada)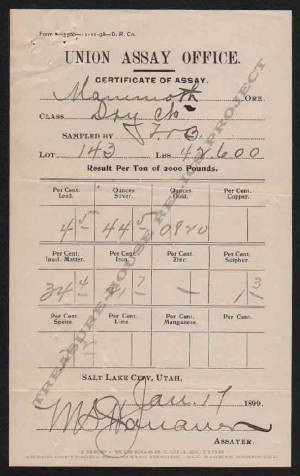 If those assay results held true, the lot of 42,600 pounds, or 21.3 tons of ore concentrates would yield more that 940 Ozs. of Silver and 17 Ozs. of Gold among other values.
The certificate is dated January 17th, 1899 and is signed personally by M.S. Hanauer, Assayer, partner in the firm.
Von Schulz and Lowe Assay Office (Denver, Colorado)
Walker, H.G., Assayer (Lovelock, Nevada)
Wood, Henry E.,& Company, Assayers (Denver, Colorado)