QUICK LOCATION PATH: Utah / Salt Lake County / Big Cottonwood District / South Fork or Cardiff Fork / Reed & Benson Ridge
Mineral Survey Plat
Below is a copy of the Mineral Survey Plat for the Samson Lode Mining Claim, Big Cottonwood Mining District, Mineral District #5, Mineral Survey #106, Lot #142. The Claim was located August 17, 1882 by H. F. Samson. The Survey dated September 5, 1885, and accepted by the U.S. Surveyor's Office on October 3, 1885. The original claim was 200 feet wide, and 1500 feet long, running South South-East to North North-West and encompassing 6.88 acres of ground.
The Plat shows the discovery marker near the center of the claim just west of the Reed & Benson ridge. At the time of the survey, the Samson Claim was being worked by one shaft and one tunnel. The discovery shaft 4 x 6 feet wide and 100 feet deep, the tunnel 4 x 6 feet and 367 feet long.
No mention is made of cabins or structures at the site on the survey plat.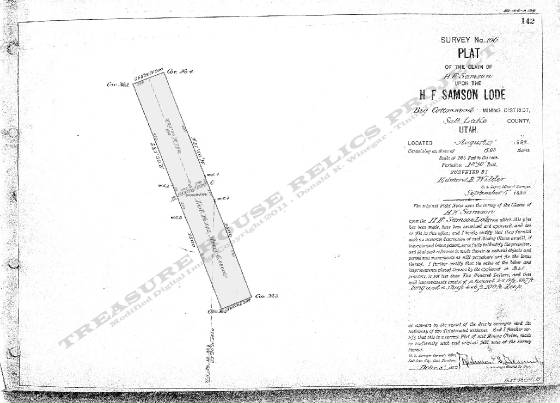 Base Plat is
from original scans by the U.S. Department of the Interior, Bureau of Land Management (BLM)
.
Modified digital map image Copyright 2011 - THRP - Tintic Images
Unknown for certain. According to some, there are scant remains of a cabin. The site is very remote, and difficult to get to.
______________________