Simple rendering of the VENUS mine just below the Mill D South Fork and Mineral Fork ridge-line on the Mill D side. Rendering is based on scant site remains and early written descriptions. THRP - Copyright 2011 Donald K. Winegar - All Rights Reserved
QUICK LOCATION PATH: Utah / Salt Lake County / Big Cottonwood District / South Fork or Cardiff Fork / Mineral Fork - South Fork Ridge
| | | |
| --- | --- | --- |
| Approximate GPS Location: | 40.36.826 N - 111.40.090 W (topo estimate) | |
| | | |
| | | |
| | | |
Mineral Survey Plat
Below is a copy of the Mineral Survey Plat for the Venus Lode Mining Claim, Big Cottonwood Mining District, Mineral District #5, Mineral Survey #25, Lot #61. Survey dated November 21 & 22, 1876 and accepted by the U.S. Surveyor's Office on December 22, 1876. The original claim was 600 feet wide, and 1500 feet long, running East to West and encompassing 20.66 acres of ground.
The Plat shows the discovery marker near the center of the claim on the West slope of Mill D South Fork near the ridge-line with Mineral Fork. At the time of the survey, the Venus Claim was being worked by one tunnel and three individual shafts. The first tunnel just 15 feet long, lead to the first shaft 4' x 5' wide and 40 feet deep at that time. A second shaft only 12 feet deep, and a third shaft 80 feet deep, each being 4' x 5' feet wide rounded out the workings.
No mention is made of cabins or structures at the site on the survey plat.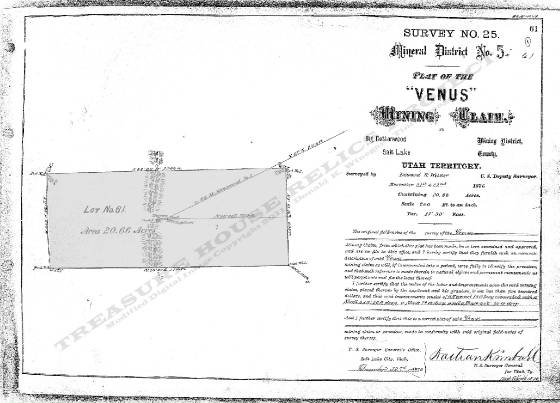 Base Plat is
from original scans by the U.S. Department of the Interior, Bureau of Land Management (BLM)
.
Modified digital map image Copyright 2011 - THRP - Tintic Images