Sacramento Mine Claim - BCC
QUICK LOCATION PATH: Utah / Salt Lake County / Big Cottonwood District / South Fork or Cardiff Fork / Reed & Benson Ridge
Mineral Survey Plat
Below is a copy of the Mineral Survey Plat for the Sacramento Lode Mining Claim, Big Cottonwood Mining District, Mineral District #5, Mineral Survey #7, Lot #43. The Survey dated September 18, 1873, and accepted by the U.S. Surveyor's Office on December 2, 1873. The original claim was 100 feet wide, and 1200 feet long, running almost due east to west and encompassing 2.75 acres of ground. It lies just north-west of the Pacific mine.
The Plat shows the discovery marker near the center of the claim just east of the Reed & Benson ridge in Days Fork, but since the claim overlaps to South Fork, I include it here. At the time of the survey, the Sacramento Claim was being worked by two shafts, one tunnel, and one open cut. The exact dimensions of any of these workings at the time of the survey are not known. The tunnel shown on the plat appears to be less than 100 feet in length.
It is noted also that the Silver Wing mine was also located on ground claimed by the Sacramento..
No mention is made of cabins or structures at the site on the survey plat.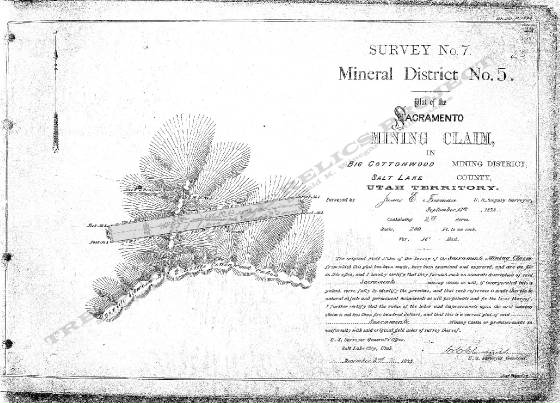 Base Plat is
from original scans by the U.S. Department of the Interior, Bureau of Land Management (BLM)
.
Modified digital map image Copyright 2011 - THRP - Tintic Images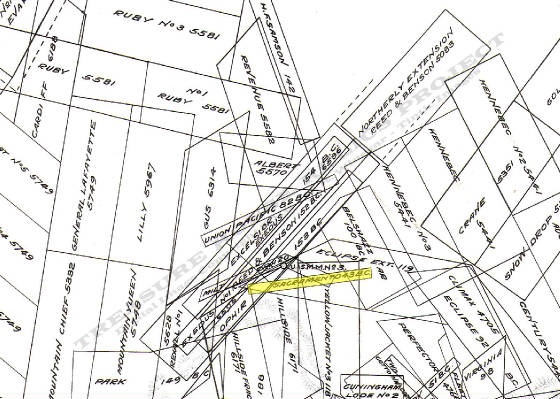 Detail From larger Cottonwood - American Fork - Park City Claim Map showing the location and surrounding claims THRP - Winegar Collection
No structures remain standing at this site.
______________________