QUICK LOCATION PATH: Utah / Salt Lake County / Big Cottonwood District / South Fork or Cardiff Fork / Mid-canyon area
Mineral Survey Plat
Below is a copy of the Mineral Survey Plat for the Snow Flake Lode Mining Claim, Big Cottonwood Mining District, Mineral District #5, Mineral Survey #25, Lot #81. Survey dated November 4 & 5, 1880 and registered with the U.S. Surveyor General's Office on February 1, 1881. The original claim was 600 feet wide, and 1500 feet long, running South-West to North-East and encompassing 20.661 acres of ground.
The Plat shows the discovery marker near the center of the claim on the East slope of Mill D South Fork just above the canyon bottom. At the time of the survey, the Snow Flake Claim was being worked by two tunnels; the longer in 300 feet, and the shorter only 40 feet.
No mention is made of cabins or structures at the site on the survey plat.
How long this property was worked under the Snow Flake name is not known, but most of this same ground would be surveyed and worked as the East Carbonate group of mines by the 1900's.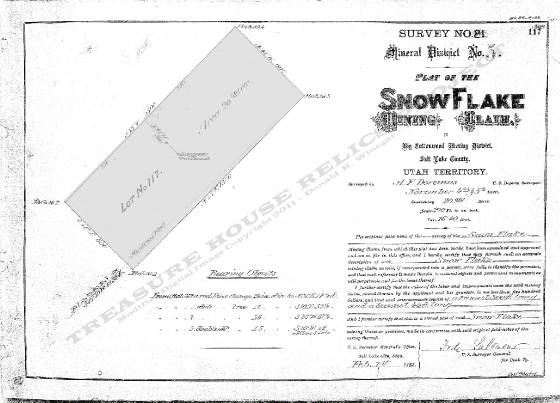 Base Plat is
from original scans by the U.S. Department of the Interior, Bureau of Land Management (BLM)
.
Modified digital map image Copyright 2011 - THRP - Tintic Images
Two caved portals, waste rock dumps, and a small bit of metal mark the site. Each is located in heavily overgrown ground and requires bushwhacking to reach.
______________________