American Metal Mining Co.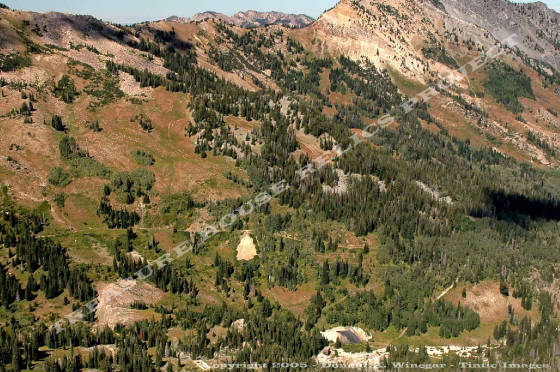 General view of the American Metal Mining property on the south slopes of Montreal Hill above the Cardiff property
c.2005 Donald K. Winegar - Tintic Images - All Rights Reserved
QUICK LOCATION PATH: Utah / Salt Lake County / Big Cottonwood District / South Fork or Cardiff Fork / Upper canyon
| | | |
| --- | --- | --- |
| Approximate GPS Location: | 40.36.569 N - 111.39.440 W (topo) | |
| | | |
| | | |
| | | |
The American Metal Mining Company operated in South Fork to the North-east and above the Cardiff working ground originally developed by the American Mining Company around 1900. Incorporated February 7, 1921 under the laws of Utah, the new company officers included Thomas Hobday, President; Martin Seifert, Vice-President; Walter H. Voyles, Secretary-Treasurer; with Lottie Spencer and C. J. Sander, additional Directors.
The company owned 1 patented and held 21 unpatented claims. The property was developed by an upper tunnel that was driven into promising fissures though little ore was ever found. This is evidenced by the fact that shares with a par value of 10 cents was trading at a penny to a half penny in 1927, additionally, by that time 12 assessments had been levied.
By 1929, it was planned to work the fissuers at depth by driving a long tunnel through the Victor Mining Company's property and draining the American holdings.
Whatever the plan, work continued, but so did the assessments; 24 by 1935 and probably more as time went on.
No structures remain at this site. There is little evidence that there ever were any. Only the dump and the caved portal mark the site.